Balinese massage or SPA Bali is a trend in the popularity of Art Russia beat other nations such as Shiatsu massage. This was stated by the Ambassador of Russia Djauhari Oratmangun. At the time Indonesia hosted the delegation at the World Media Summit at Cafe Mania Moscow.
Body treatments and the art of Balinese massage is very popular in Russia, and the people in the country was a fan until the White Bear willing to pay U.S. $ 100 to U.S. $ 400 to enjoy it.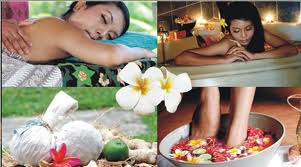 Ambassador said Russian citizens who crowded cafe near the Kremlin was generally've been to Bali and Raja Ampat, Papua, Indonesia or at least are familiar with both traditions, culinary, arts and culture, including the art of Balinese massage.
Currently, according to Djauhari, there are more than 400 workers SPA Bali in Russia spread across major cities such as Moscow, St Petersburg and Vladivostok.
Bali SPA industry in Russia evolved since about five years ago and more Indonesian women who work in the tourism sector this. "It's real massage you know, not the others," the Ambassador said, hastily explained.
Bali SPA Workers officially imported into Russia by the company Sim Krasok memalui licensing coordinate between the Ministry of Labour and the Ministry of Tourism and Creative Industries.
Bali SPA heavily promoted by the company in various media such as magazines, newspapers and television.
Monitoring field, a number of points at the International Airport Demodevodo encountered plenty of outdoor advertising with a picture of a beautiful woman with a Balinese massage and fitness promises of traditional women of the East.